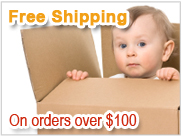 Most Popular
Baby Bundler
---

Baby K'Tan
---
Snug as a Bug
Baby Pouch Slings 101
An Introduction into the World of Native Slings
Pouch slings are one of the first means of baby wearing. Pouch slings are often called 'native slings' in honor of indingenous or 'native' people who carried their children in a pouch. Also known as "pocket slings" or "tube slings", pouch slings were originally made of animal hides. Pouch slings are usually a one-piece sling with a pouch or pocket to cradle a newborn close to mom, and then adjusted to front, side, hip or back carry positions as baby grows older.
Pouches were originally made to cradle newborns and older babies so baby could be at mom's side while mom cooked, cleaned, sewed, gathered vegetables, nuts and berries, scraped and tanned hides, and took care of older children. The design of the pouch sling allowed for easy breastfeeding, without interrupting mom's work. There was no need for adjustments, fastening, etc., making the pouch easy to take on and off without extra fabrics or "tails" as found with other forms of slings. First, materials were precious and very little of anything was wasted, especially animal skins and other clothing materials, and second the pouch sling didn't have any extra material that could get snagged on branches, caught in cooking fires, etc.
As time progressed fabrics such as cotton, hemp, and now fleece, stretch twills and other man-made materials replaced the animals skins used in making pouches. The uniqueness of baby pouches as opposed to other carriers has always been that pouches are very simple to use. There are no rings, straps, knots, buckles, etc. to fasten or adjust.
Sizing:
Measurements for a pouch sling should be from the shoulder to the opposite hip. Most pouch manufacturers have sizing that fits into small-medium-large categories, while others have sizing specific to your measurements. If you are in between sizes, you should go with the smaller sizes to ensure a snug fit. If you are broad shouldered, broad chested (for men) or large busted (for women), you should go with a larger size. Since most pouch slings are not adjustable, you should always measure yourself prior to purchasing a new sling, and review the the brand of sling's sizing chart before placing an order. Different manufacturers have different measurements. By taking measurements and reviewing sizing charts you can make sure you get the right size the first time, and avoid possible delays as you wait to exchange your sling.
Pouch Carry Positions
Pouch Sling carrying positions include cradle, upright cradle, tummy to tummy, kangaroo, hip, back.
Pros and Cons of Baby Pouch Slings
Which carrier to buy really is a matter of preference. Each baby carrier has its own pros and cons, and what is the absolute perfect sling for your best friend might be uncomfortable or just not quite right for you.
Pouch Sling Pros:
Simple, quick, and easy to use.
When baby falls asleep in the baby pouch - and she will! - you can simply slip her off while still in the pouch.
Great 'starter' carrier.
Folds down to a very small size that fits into a diaper bag or purse.
Many pouch slings are made of a slight 'stretch' fabric that allows babies to snuggle down into the sling without stretching out the sling itself.
Pouch Sling Cons:
Need exact measurements for a correct fit.
Because of the "exact" sizing, only one person can use the pouch so it can't be easily shared amongst family members and care providers of different sizes.
Because of the exact measurements, not everyone can wear a pouch with their 'outdoor winter clothing' - thick down jackets, etc.