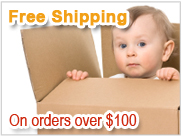 Most Popular
Baby Bundler
---

Baby K'Tan
---
Snug as a Bug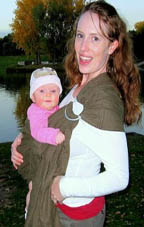 Baby Sling Shop
Baby wearing has been a favorite part of parenting since motherhood began. At Baby Sling Shop, we're proud to support and encourage baby wearing traditions with a large assortment of stylish, comfortable, and practical baby wraps, ring slings, mei teis, hip carriers, and other baby carriers. Baby Sling Shop is filled with baby-inspired, mom-recommended, and often mom-designed, slings, wraps and carriers to help simplify your life in a variety of colors, patterns and styles.
At Baby Sling Shop we know that the Best Sling is the one that does what you need it to do. We have a wide variety of different types of baby slings, wraps, and baby carriers to find the one carrier style and fabrics that best fits your needs and your lifestyle.
New to baby wearing? We have a great information about the benefits of baby wearing, from kangaroo care to toddlers, baby wearing can help foster development, coordination, and communication skills. Not sure which carrier is right for you, or what features each carrier has? We answer these questions (and more!) for you.
Featured
Maya Wrap
The Maya Wrap Lightly Padded Sling is one of the most popular ring slings on the market. This Maya Wrap Sling is made of 100% cotton, hand loomed fabric and includes a padded shoulder, unpadded rails, zipper pocket and a free DVD. Wear your baby upright on your chest or reclined, and then use the sling as a hip carry as he or she gets bigger.
Chic Sling
Pouch slings have long been considered one of the easiest styles of baby slings to use. The concept of the Chic Slings is simple: Easy in, Easy out. Chic Slings is one of the few adjustable style pouch slings available. This drawstring baby carrier is unique in that it is the only one of its kind. Perfect for newborns to toddlers weighing 35 lbs.
Blue Berriest
BlueBerriest slings are the creation of a baby-wearing mom of four. Similar to the popular native-style slings, BlueBerriest Slings are a pouch sling made of a cotton/lycra fabric allowing the slings to have a slight stretch to it. The light stretch of the fabric allows your little one to snuggle right into the sling.
Maya Tie
The Maya Tie is reminiscent of the "Mei Tai" or Asian Baby Carrier. With wide sling like shoulder straps, your child's weight is distributed across both your shoulders and hips, making the Maya Tie extremely comfortable to use. Versatile enough to front carry your newborn or back carry an older child. The Maya Tie also has an outer pocket perfect for carrying lightweight items like diapers, wipes cell phone, keys, etc.
Bundleboo Signature
The Bundleboo is a mom-invented versatile, trendy and comfortable wrap carrier. The Bundleboo slings feature a patent-pending safety seat, fun colors, 100% woven cotton and have roomy, comfortable leg holes built into the fabric. Panels are made to evenly distribute the weight of your baby over the shoulders, back and hips which virtually eliminate back pain and pressure points that are common in strap or one shoulder carriers. Available in Classic colors or Signature designs.